June 14, 2019



Tech Talk Editor Teri Wesley has compiled a summary of this week's tech and cybersecurity news:
The hack back bill is back
Bank mitigated phishing losses
An intelligent approach to fighting fraud
U.K. fintech makes its foray in the U.S.
A transatlantic payments partnership
Visa launches DLT-based payments platform

McBanking in Russia
Credit Builder for consumers
Tech disruption warning from IMF
Spam, Scams & Breaches
Updates, Patches & Alerts
and on the lighter side...
For more information, including a direct link to the source articles, visit the Tech Talk page on BankersOnline.com.
The hack back bill is back
In what is referred to as the "hacking back bill," legislation has been reintroduced by Rep. Tom Grave (R-GA) that would essentially permit victims of a cyber attack to take active-defense measures to track their attackers and retaliate in some way. The Active Cyber Defense Bill was first introduced in March 2017 with an updated version published in May 2017. Some security experts have grave concerns about the bill and how hacking back could do more harm than good. Get the details at: Tech Talk.

Bank mitigated phishing losses
In 2015, nearly half a million bank customers in Alabama were lured in by a smishing (a phishing scam sent via SMS text messages) campaign containing a link to what they believed was their banks' website, but was actually a spoofed link that only slightly modified their banks' legitimate URL. As a result, the fraudster pilfered enough information to clone debit cards and successfully steal about $18,000 from his victims. The bank's proactive measures not only helped mitigate further losses but led to the indictment and sentencing of Iosif Florea on identity theft and bank fraud charges. Get the details at: Tech Talk.

An intelligent approach to fighting fraud
The popular saying, "a method to one's madness" – derived from William Shakespeare's play Hamlet – means that despite acting in a strange or erratic way, a person is working towards achieving a specific goal and has a strategy to get there. To detect and combat payment card and other financial fraud, fraud teams can use threat intelligence gathered from illicit online communities where fraudsters go to discuss their nefarious schemes and buy and sell stolen data. Monitoring these dark web shops to see what criminals are up to and for BINs (Bank Identification Numbers) is an effective way to identify high-risk BINs and flag suspicious transactions. Threatpost has the details and debunks common misconceptions about threat intelligence. Get the details at: Tech Talk.

U.K. fintech makes its foray in the U.S.
Billing itself as the "bank of the future," British mobile-only bank Monzo has made its across the pond. Valued at more than $1 billion with 2.2. million customers, the digital bank contender has no physical branches and operates solely via a mobile app. Sans a U.S. banking license, Monzo will not be offering lending options to its American customers. Get the details at: Tech Talk.

A transatlantic payments partnership
A partnership that reaches Across the Pond will enable global merchants to accept online payments from both European and American customers and will provide an alternative to cards by accepting payments directly from a bank account. European online banking payments provider Trusty has merged with Silicon Valley online banking payments company PayWithMyBank, creating the first and only online banking payments network with transatlantic coverage for merchants and billers. Get the details at: Tech Talk.

Visa launches DLT-based payments platform
To reduce costs and increase efficiency of cross-border payments, global payment network Visa has launched its distributed ledger-based (DLT) cross-border payments platform. With plans to expand into 90 markets by the end of 2019, Visa has partnered with FIS and Bottomline Technologies to offer the platform to bank clients as an alternative to global funds transfer network SWIFT, DLT-based Ripple, and other emerging challengers. Get the details at: Tech Talk.

McBanking in Russia
In some countries or regions bank branches can be scarce. But with more nearly 38,000 locations in 120 countries and territories around the world, one can find a McDonald's restaurant just about anywhere. Customers of Russia's Sberbank will soon be able to do eat out and do their banking at the same time. The state-owned banking giant and global burger chain are opening a pilot branch in McDonald's and have plans to team up on a number of other innovative ventures. Get the details at: Tech Talk.

Credit Builder for consumers
According to a Fico survey, 11 percent of Americans have low credit scores (below 550) and the CFPB (Consumer Financial Protection Bureau) reports that one in ten Americans have no credit score or history. To help these consumers get access to and build up their credit, retail tech giant Amazon has partnered with Synchrony Financial to launch a secured Credit Builder card that includes access to credit education resources. Get the details at: Tech Talk.

Tech disruption warning from IMF
Major tech players like Amazon extending credit and other financial services to consumers could lead to systemic challenges to financial stability and efficiency, according to the International Monetary Fund (IMF) – the Washington DC-based global organization that promotes global economic growth and financial stability. At the annual G20 summit in Tokyo, IMF chief Christine Lagarde warned international group of governments and central bank governors that big tech firms dappling in the banking market raise privacy issues, as well as competition and market concentration concerns. Get the details at: Tech Talk.




See what other current hot cyber and technology topics affecting financial institutions BOL users are discussing in the
Technology Forum
.
ACH fraud losses are rising and faster settlement poses the potential for increased fraud occurrences and losses. This webinar will explore the most common and costly forms of fraud in the ACH network, along with tips and techniques to investigate claims, and where appropriate, recover losses.

Can't attend?
Order the CD ROM of the program now.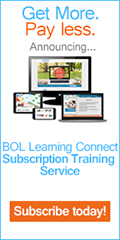 On the lighter side...
On Sunday, Dads get to take a break from lawn work and honey to-do lists. Ties, golf balls, and gift certificates are old-school. In recognition for all that special man in your life does for you and his family, give him a cool tech gift he will really appreciate.

Happy Father's Day to all our cool tech dads!